Welcome to my portfolio
My website portfolio is made up of projects for which I had a desire to work at improving each respective client's results.
Mamo Burger Bar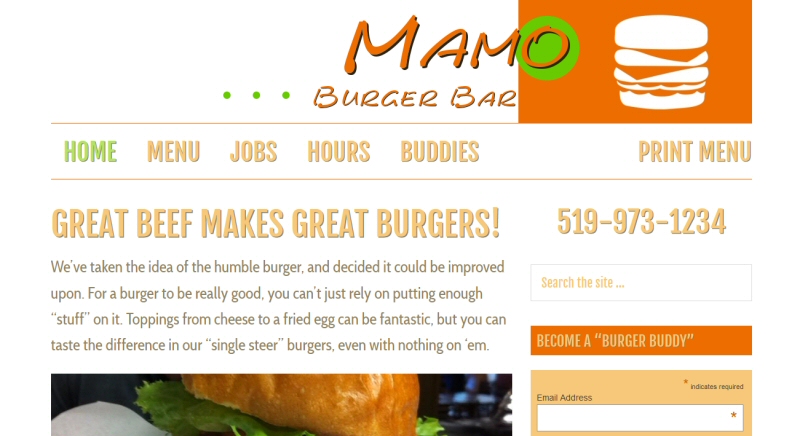 Resurrecting the Mamo brand, Ryan and Tina Odette opened this burger joint in September of 2013. They boast delicious single-steer burgers and a great craft brewers list. The site has bold typography and is fully mobile-responsive so that folks can quickly and easily peruse menu items regardless of the device they use to visit the website. The restaurant menus and all marketing materials follow a nearly identical clean design, keeping the brand consistent across formats. So far, the joint is jumpin'!
The Northern Fist School of Martial Arts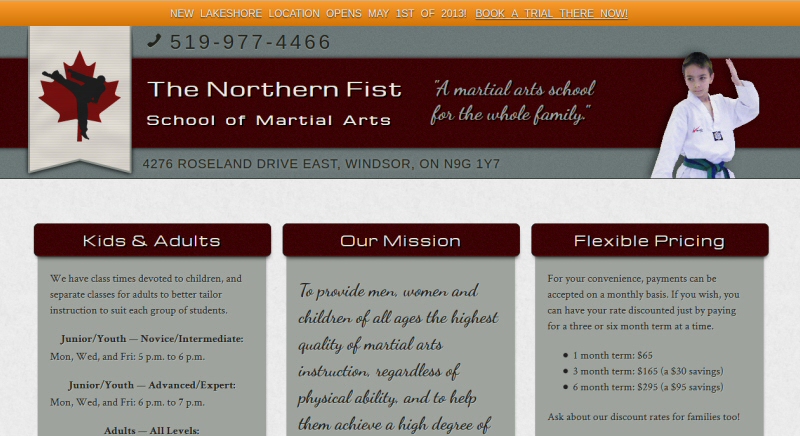 The Northern Fist is a Martial Arts school founded by Master A. Liscio. This school is focused on creating a family-friendly place where martial arts can be learned comfortably for people of any age or gender. Though among the most reasonably priced schools in their market, the level of expertise of the instructors is impeccable, and the benefits gained by students speaks for itself.
Smoke & Spice Southern Barbeque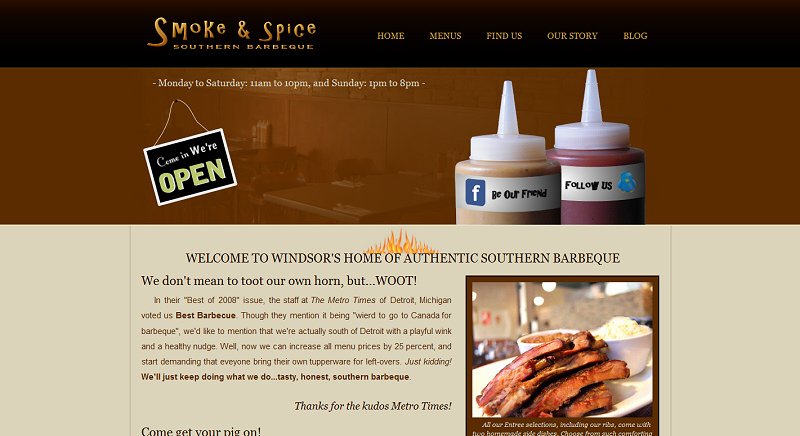 Smoke & Spice Southern Barbeque opened in September of 2008, at 1515 Ottawa Street in Windsor, Ontario, Canada. It features a "niche" product for this area, as no restaurant in Windsor features this unique style of cuisine. I also created the bulk of their in-house print marketing materials (menus for dine-in, take-out, and kids' menus, festival banners, business cards, comment cards, etc.).
Brews & Cues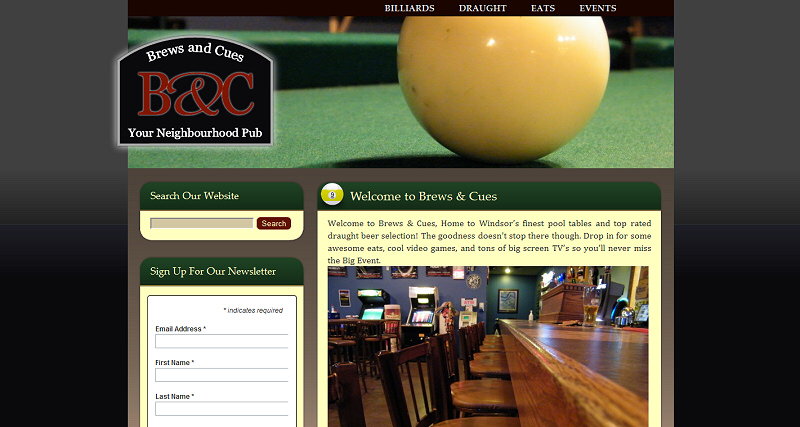 Windsor's best "pool hall" is that, and a whole lot more. Located at 5663 Ojibway Parkway, just in front of Windsor Raceway, they also boast the area's best array of Ontario Craft Brews on tap and a great menu. Whether you're looking to snack at the bar or bring the family in for dinner, there's a little something for everyone.
The Canadian Wine Trail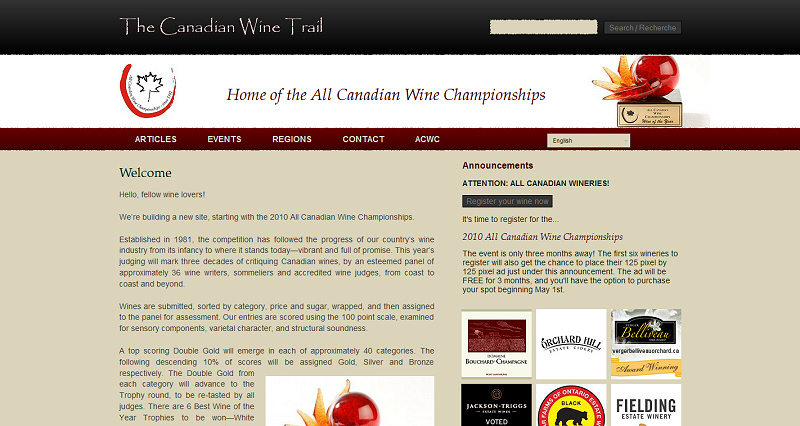 Home of the All Canadian Wine Championships, Canada's oldest and largest wine competition, this website has been a very exciting project to be involved in. Not just for what it is now, but for what it will one day become. The client had always hoped for more out of this website, and once we began chatting about its direction we quickly decided that we both wanted it to be the definitive hub of activity for the Canadian wine scene.
Regardless of my feelings on the use of Papyrus in the logo, I'm proud to be involved in this very Canadian website…it's my first bilingual effort. I hope Madame Shriver would be proud.
Though still in production, this site will one day house a wealth of information for the wine industry professional, as well as the average oenophile.
Dr. Andrew Rak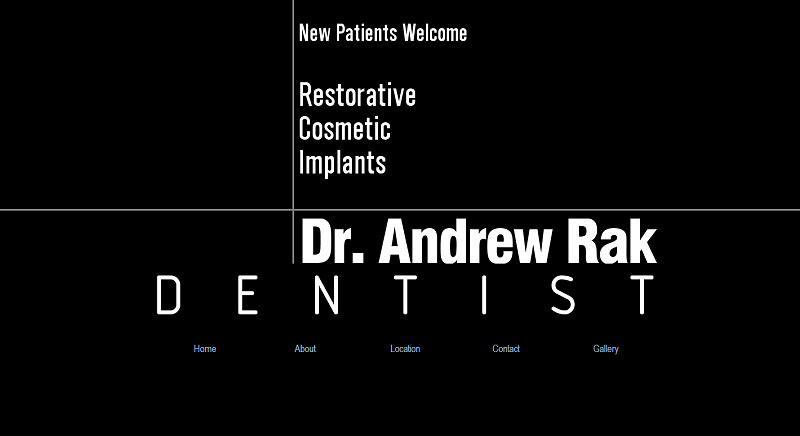 Dr. Andrew Rak is located in East Windsor, Ontario, Canada, at 7106 Wyandotte Street East. In many ways he's a web designer's dream. He came to me in May of 2008 with very definite ideas about what he wanted in a website. He even had sketches in hand! It's rare that a person is able to be as specific about what they would like as Andrew Rak was. His office is accepting new patients, and besides being meticulous in his profession as well, he's a real nice fella. If you're as terrified of dentists as I am, this is your guy. He's got a real knack for giving people the "warm and fuzzies".
Mamo Bistro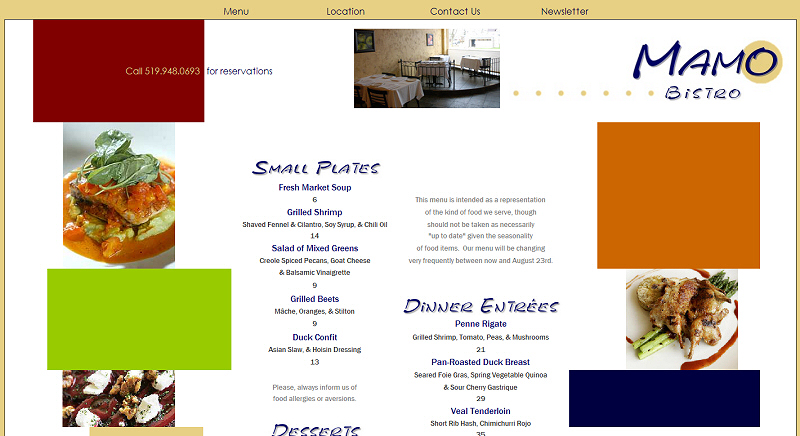 Though located in Windsor, Ontario, Canada, Mamo Bistro boasted four stars for food and service from Detroit Michigan's "Metro Times". This contemporary bistro also received acclaim from the "Detroit News", and WindsorEats.com. It represented Chef Ryan Odette's first foray into the world of restaurant ownership. A client of mine since 2005, this site represents what good collaboration between client and web designer can produce. The restaurant is now closed, but the website will remain for a number of months more.