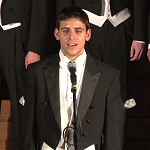 Introducing the Yale Spizzwinks! I didn't go to Yale, and I don't sing in an "a cappella" group, but it's my damn website.
Below is the Winks version of Ben Folds' "Landed". Soloist, Alec Torres, delivers a solid rendition, though these kids do a great job with every song they tackle.
Here's the original by Ben Folds.
Tags:
music
,
video